Banned Books Week - Day Three
Interestingly, I'm going to be spending most of my day tomorrow with Cory Doctorow, whose YA book Little Brother has been challenged by a parent recently - not because it incites kids to use countersurveillance, clone RFID chips, and defy the Department of Homeland Security, or because it acts as a handbook for organized dissent. Not even because of the graphic depictions of torture (like the harrowing waterboarding scene at the end...) Nope. Because of the (off camera, consenting and loving) teen sex.
Little Brother also won a White Pine Award (judged by librarians and young readers) and a Sunburst Award for YA Fiction. And was shortlisted for a Hugo Award (arguably the highest SF award in the English speaking world.) Hm.
And, here's your random mouse-jiggled case for the day:
Halsey, Oregon
(2008) Andy Riley's The Book of Bunny Suicides was challenged by a parent who said she'd rather burn it than return it to her local library. The story was nationally reported and prompted readers to send in 24 copies.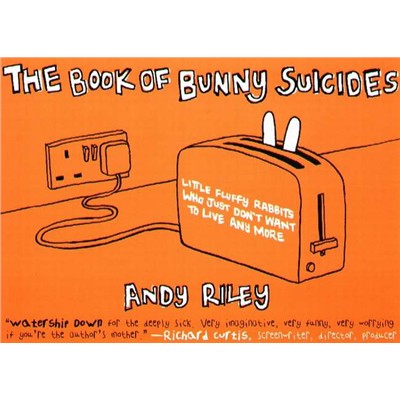 (Come on, the subtitle is "Little Fluffy Rabbits Who Just Don't Want To Live Any More." What were you expecting, lady? - Ed.)
Posted by Kathryn Hunt at 11:39 PM EDT
Updated: Tuesday, 29 September 2009 11:20 PM EDT