Separated at Birth?
Topic: reviews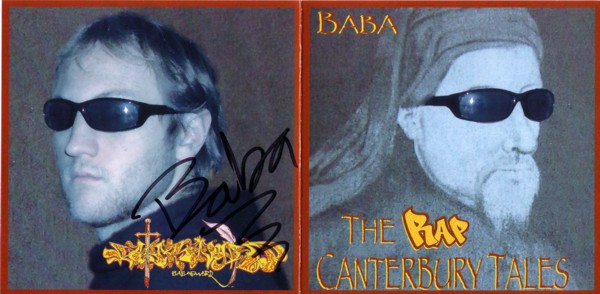 MC Baba Brinkman . . . and Geoffrey Chaucer. The resemblance is eerie. . .
Baba's performance piece, "The Rap Canterbury Tales," is, incidentally, Very Cool. And the foreword to his book makes a really interesting case for the parallels between the Tales and rap, and the resurgence of competiton and live performance as the wellspring of a revolution in poetry. Although, as a page poet, I'm a little hurt by his assertion that the printing press killed poetry as a form accessible and relevant to everyone, I can't actually argue with it - poetry has become an Ivory Tower sort of institution for the most part. And his idea that the invention of recorded sound sparked a 'rhyme renaissance' is intriguing, and exciting.
I got the above image from the CD, also available on his site, which is a really nicely done retelling of the Knight's Tale, the Miller's Tale, the Pardoner's Tale and the Wife of Bath's Tale, as well as the whole framing story done from the point of view of a rap fan. It takes place on a tour bus between cities, and it's recast as a battle between rappers. Works nicely, and features Baba's piece "The Rhyme Renaissance" in the place of the "Tale of Sir Thopas."
Go check out www.babasword.com - it's pretty cool.
Posted by Kathryn Hunt at 2:46 PM EDT
Updated: Wednesday, 11 October 2006 3:11 PM EDT