Since some of us are also visual artists, this is where we'll post stuff. Chapbook covers and various illustrations may also find their way here, as well as anything else we feel like putting up.
"Tabbycat" - retrofitted doll by Rachel Dorrenbacher, 2003
"Tabbycat" was created in the summer of 2003 by Rachel Dorrenbacher. The doll was created based on the main character of Voodoo Child, a novel in progress by Kathryn Hunt (check out the "Writing" page for a sample of the novel!) If you look really closely, you can see the tiny fangs painted in - yes, Tabby is a vampire. The rifle on her back was apparently "liberated" from a G.I. Joe action figure.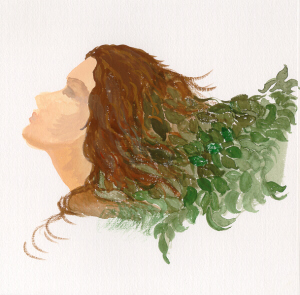 "Cerridwyn" - watercolor by Kathryn Hunt, 2001